There is a retail store chain in North America which some of you may have heard of –  tongue firmly in cheek of course – known as SEARS.
Sears is  a department store selling all kinds of products from all kinds of manufacturers. They also have  products manufactured with their own brand name for sale in their own stores and online. Craftsman compressors is one of those products.
The Craftsman brand is the name of their broad range of tools and workshop accessories as well, but on this page, we're only concerned about the Craftsman compressors.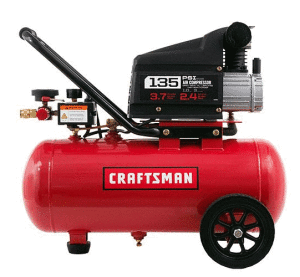 Over the many years the Craftsman compressors brand has been available, the actual air compressors have been made for Sears by a range of manufacturers. Therefore, a model number available in 2014 may not have been made by the same company with that same model number available in earlier years. Or, there are so many model numbers, it's hard to find specific information about that one.
To make it a bit easier to try to find solutions to your Craftsman compressors problem, we'll add pages with information relating to specific Craftsman models and link them below.
As well as the specific pages listed below which address issues relating to Craftsman (and pretty much all other brands) there are questions and comments at the bottom of the page. Please scroll right to the bottom to see them. Your compressor question may have already been asked and answered there.
Please only post questions and comments about Craftsman / Sears air compressors on this page. Postings relating to other brands will not be posted here.