Hey! This site is reader-supported and we earn commissions if you purchase products from retailers after clicking on a link from our site.
Bostitch air compressors is also in the business of hand tools. Why sell air compressors?
I believe that Bostitch focuses on the hand tool business, including a broad range of air tools, and they offer Bostitch air compressors to augment the sale of air tools. If you are in the market for an air tool and need an air compressor to run it, why not get a compressor from the same brand? Makes a one stop stop if you have issues with either the air tools or the compressor.
Ever wonder about how the name Bostitch came about? How about the Boston Wire Stitcher Company. Over the years the name was contracted to Bostitch.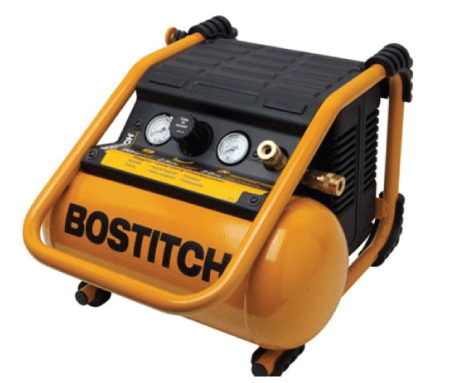 The thing is Bostitch, like so many other brands of air compressors, are not made by Bostitch. They are private-labeled for them with the Bostitch markings, and sold through the Bostitch outlets.
That they don't make them makes the supply of spare parts, and the knowledge to specify what spare part is needed, as suspect. The Bostitch air compressors are sold through all the big box stores North America wide. Ever seen any spare parts for the Bostitch compressor pump or electric motor at any of these outlets? Not likely.
Lots of used Bostitch air compressors can be found on all on-line auction sites.
Bostitch air compressors parts and service
But if you need parts or service, where do you go?
You go here: https://servicenet.bostitch.com/
It is interesting to note that this service outlet supports Bostitch, Porter Cable, Black & Decker and DeWalt compressors and tools. Makes you think they are all connected, doesn't it. Well they are. It seems all are part of the Black & Decker organization.
In any case, you have an issue with a Bostitch compressor you, so far, cannot solve. Post your question as a comment below. Maybe we can help, or certainly, other Bostitch air compressor users may be able to.
Make sure you include your model number, and a photo too, if you would.
Do you own and use a Bostitch air compressor? Please have a look at the questions posted, and if you can offer a suggestion, add a comment.
Other pages on this site to do with Bostitch compressors include: