Fix My Compressor should be able to help if you need some help with your air compressor. This site provides an excellent on-line guide to buying, operating, maintaining and troubleshooting your home and workshop air compressor. To get to the information you want more quickly, here are some short cuts to pages on this site that may help:
…You want to see what folks are saying about maintaining your make & model of compressor? Click here.
…You want to get to pages that discuss problems with the parts of the compressor? Click here!
…Here's where you click for buying compressor info and advice, parts information, and guides to different uses of air compressors and the parts on them.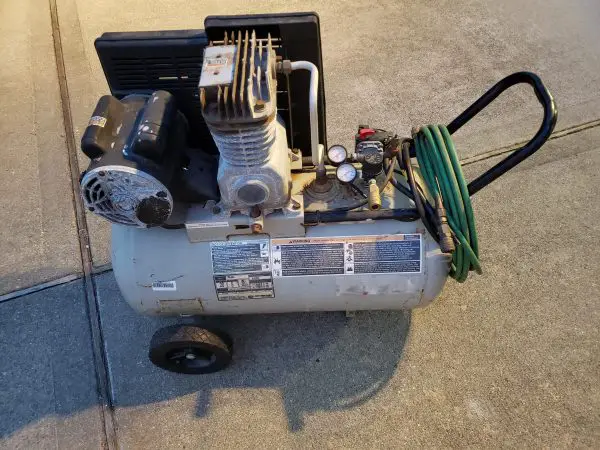 There are so many compressors available now that trying to figure out which is best for you can be intimidating. This site will help with that. Once you make a purchase, how best to use that new compressor may be a puzzler. We'll help with that too. Or, how maintain that older compressor, can be no little  problem. Fix My Compressor will help with that too.
We're working to provide all the information you may need to make the best use of your new, or new to you, air compressor and to be able to do some  compressor-problem diagnosis when problems occur, as they will in time, for sure.
Fix My Compressor?
In order to help you fix your compressor we will continually be adding  pages about the air compressor components, what those air components look like, and what  function they perform on the compressor. There are many pages about how all these various air components work together on your air compressor to make it operate properly.
And then, when inevitably something goes wrong with your air compressor, Fix My Compressor will be here to help solve that compressor problem with you. We, or any number of other air-compressor-knowledgeable visitors, will provide answers to your air compressor using questions that you can ask in the comments section of most pages.
We are thrilled when we get comments like these:
From Dwayne:  Thanks I've been looking for this answer for the last 6 hours on how to hook up a unloader switch ..  I appreciate your time and trouble answering my question.
From Jay: Thanks for your great site. I was able to find that the starter on my regulator had the hot wire slid off the spade lug. Simple fix (a bit of a pain to work in that small box tho). Great site!

From Shawn: Compressor had air over the piston. This site solved my problem quickly. Thanx, fix-my-compressor.com.
From Benjamin: Just to say thank you for this page, instantly able to diagnose intake valve failing, turned out to be a gasket blown through, 10 min job that saved me a whole heap of pain and expense.
From Ally: Thanks for your help, I have replaced the PRV and the compressor is working as it should. It's a shame I had to fork out for an expensive pressure switch (£23.78) when all I needed was a cheap PRV (£2.99).
From R. Torres: Thank you for your advice and help. I had purchased a new starting capacitor which did not make a difference. I was about to purchase a pressure switch when I came up on your website. I simply opened the existing  pressure switch box and lifted the switch plate up with a screwdriver, plugged it back in, and it started working immediately. So, thank you, once again.
From T. Ames: This is the Best and most thorough site I have ever found regarding air compressors and their repair.
Many thanks to the authors for taking so much time to assemble this site and sharing it.
This compressed air information website is a cooperative one.
Please do add a comment on the pages on this site where your experiences with that compressor or compressor problem can help or you have a question for the group.
That provides tons of information for all  air compressor owners and users. We hope you find our Fix My Compressor website very useful. Thank you for visiting.
The Publishers