Hey! This site is reader-supported and we earn commissions if you purchase products from retailers after clicking on a link from our site.
Can I get get 80 PSI on a Craftsman Air Compressor Model 106.174540? with all gauges set at 40 psi? I have been searching the internet, but cannot find a manual for my second hand Craftsman Air Compressor, Model 106.174540, with 1 HP motor, so I hope you can answer my question.
The label on the tank says it is rated for 100 psi, but all the gauges (2 of them) are set for 40 psi.
1) Can I use the compressor to fill my truck tires to 80 psi, even though the gauges are set to 40 psi?
2) Can I reset the gauges to 80 psi?, asks R. L.
……….
I tried to find a photo of the 106.174540 with no success. I did find an exploded parts diagram from www.ereplacementparts.com and I have provided it below.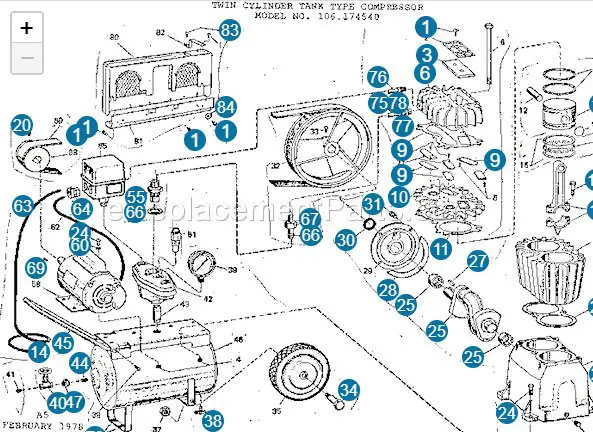 Your compressor has an upper output pressure of 100 PSI. Therefore, if your compressor is running properly, you should be able to get up to 100 PSI out of the discharge coupler on the air compressor.
If your air compressor is only getting to 40 PSI (displayed on the tank gauge) pressure, and either continues to run and not build any more pressure past 40 PSI or the compressor stops at 40 PSI, then you have a maintenance issue.
If the tank gauge eventually displays 100 PSI after running for a while, then you can set the regulator to the 80 PSI you require. If, however, the compressor never gets above 40, you cannot. Are you saying that your compressor runs only up to 40 PSI and if so, does it continue to run not building past that pressure, or does it stop at 40 PSI?
If you can provide a bit more information, we should be able to provide an answer. Thanks.