Hey! This site is reader-supported and we earn commissions if you purchase products from retailers after clicking on a link from our site.
When an air compressor runs and runs and never shuts off, it's telling you it has a problem!
As we have noted on a number of pages on this site, the reasons vary from compressor to compressor, but usually boil down to one or two of a few things.
What does it mean when an air compressor runs and runs? Aside from it's broken, of course? First you want to diagnose the scenario.
For example, is the compressor running but not building any air pressure in the tank at all? This is telling you that likely the compressor motor is OK as it's running, probably the compressor pressure switch is working OK, otherwise the air compressor wouldn't have come on, when there was little or no air in the tank either. You should be able to tell if the pump is running – hasn't lost the drive connection to the motor for example – by carefully touching (with glove on) the pump head which will likely be quite hot. You should be able to feel that pump running.
All this is telling us that likely the problem is in the pump. If it's not drawing in air – you can check the intake carefully with a finger touch to feel if air is being pulled in.
Or, if the compressor is not pumping air into the tank can be checked by pulling the line from where it leaves the pump and runs to the tank. Feel if there is lots of air coming out when the pump is cycling – enough to blow your finger off the port?
That points to pump valves and you will not have good intake or good outflow from the pump if the pump valve itself is the problem.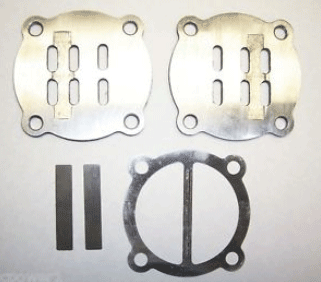 How about this scenario; when an air compressor runs and runs and builds only a small amount air in the tank, or reaches a level – say 65 PSI – and stays there, and the pump just keeps running and the tank pressure goes no higher?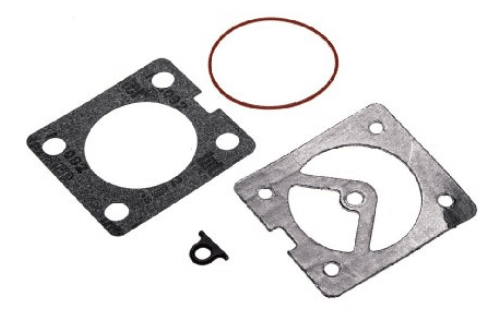 This scenario can be caused by a few things, but the single most frequent issue here is that there is a gasket inside the pump that stops air flow from the low pressure to the high pressure side of the pump, and that gasket is letting go and allowing air to flow across at whatever pressure the tank gets to before the pressure rises no higher.
Take a few minutes and read the other pages on this site about the issues in the air compressor when it runs and runs and does not build pressure for many additional tips and things to check.