Hey! This site is reader-supported and we earn commissions if you purchase products from retailers after clicking on a link from our site.
DeVilbiss air compressors have been around a long time.
This next paragraph is provided by Wikipedia:
"MAT Industries LLC (formerly the DeVilbiss Air Power Company) is an American company that manufactures air compressors, pneumatic tools, generators, pressure washers, and accessories for them. The company was founded in 1888. In 1999 Devilbiss Air Power Co. was acquired by Pentair. Pentair sold the company to Black & Decker in 2004. Following the 2010 merger of Stanley Works and Black and Decker,the new Stanley Black & Decker sold DeVilbiss Air Power to MAT Holdings on March 31, 2011. The company is now known as MAT Industries LLC (https://en.wikipedia.org/wiki/MAT_Industries,_LLC)"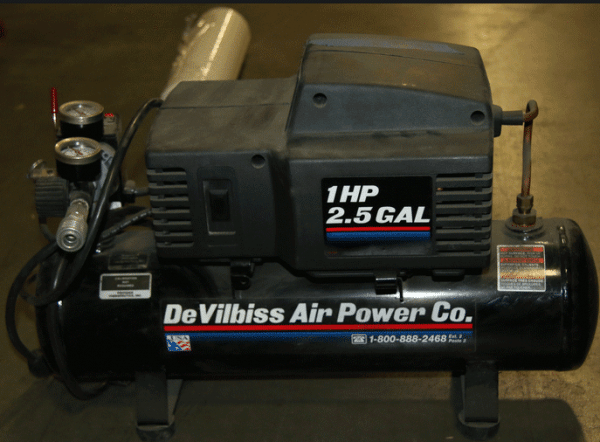 If your Devilbiss air compressor is reasonably current, consider contacting MAT Industries directly for information and support:
MAT Holdings Inc.
6700 Wildlife Way,
Long Grove, IL 60047
Phone (847) 821-9630
Web: www.matholdingsinc.com
The address is the locale for their DeVilbiss U.S,  operations. You can get access to their European and Asian information from their website too.
MAT Holdings has a number of recognized brands in tools and in air compressors. See their brands here: www.matholdingsinc.com/Brands.aspx.
Parts for Devilbiss air compressors are also still available from other on line sources. If you Google "parts for Devilbiss air compressors" you will find a number of sources. With any luck, your Devilbiss air compressor will still be supported through these outlets.
In Canada, the Devilbiss name appears to be held by a company called DeVair, and they supply Devibiss compressor parts. see: www.dvcompressors.com/.
This page offers a place for Devilbiss air compressors owners to ask questions and post responses helping each other with user obtained information.
Please read the existing questions and answers before posting your own question, and do feel free to comment to help another Devilbiss air compressor owner if you can.
The following pages are comments or additional information about DeVilbiss air compressors that can be found on this site: