Hey! This site is reader-supported and we earn commissions if you purchase products from retailers after clicking on a link from our site.
Often it's very hard to track down the manufacturer of almost any air compressor purchased on line or at a big box store. At the request of a visitor we're looking into who makes DeWalt air compressors and are reporting findings here.
What's on this DeWalt air compressor page?
About who makes their compressors
Info about manuals and recalls
Where to get DeWalt compressor parts
Ask a question about a DeWalt air compressor
The DeWalt website (www.dewalt.com) says this about their air compressors "DEWALT air compressors are built to perform. Our wide range of corded air compressors deliver power for big jobs, and our new FLEXVOLT® Cordless Air Compressor offers the versatility to work anywhere. For high-demand applications, shop our reliable gas-powered air compressors." Source: www.dewalt.com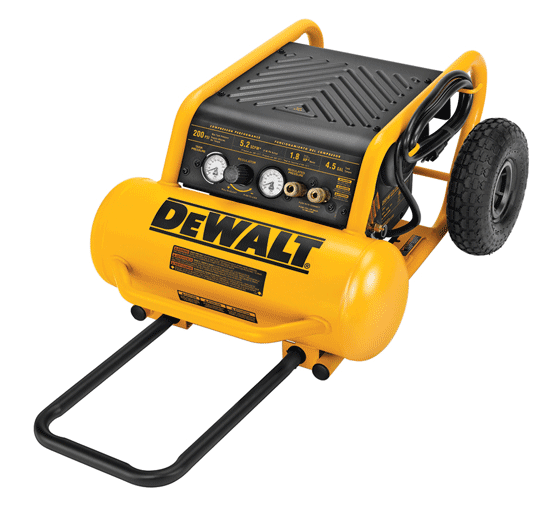 From a small inflator and their new FLEXVOLT cordless compressor up to their 120 gallon, horizontal 10 HP monster, all of the DeWalt compressors seem to be held in high regard by many that have purchased them, according to reports in on line blogs and sites. Interestingly, on their own site, there are only two reviews with one being very negative and one being very positive. (That was in December 2019)
Yet no where on their comprehensive website – where you can, incidentally, download manuals and parts lists for their compressors – do they refer to who makes DeWalt air compressors.
DeWalt compressor manuals & recalls
One of the things about DeWalt I do like is that they appear to be up front with issues their equipment have had. This page: https://www.dewalt.com/support/safety-notices-and-recalls lists all of the products on which there has been a safety recall. The last recall on a DeWalt air compressor was in 2005, according to this list. That speaks well of the engineering and build process we think.
Who makes DeWalt air compressors?
Since DeWalt is a brand owned by small appliance giant Black & Decker, DeWalt, for sure does not make their own air compressors.
Popular Mechancis (popularmechanics.com) reports this: "The Connecticut-based Stanley Black & Decker owns many brands beyond its name, including Lenox, Craftsman, Irwin Tools, DeWALT and CribMaster."
So the question really is, who makes the air compressor Black & Decker sells?
It really depends on the size of compressor we are talking about, whether it's a DeWalt air compressor, Black & Decker brand, or any of the many other makes and models all typically manufactured by the same Chinese or Asian company.
Ever hear of AliBaba? If you visit alibaba.com and source small, portable air compressors, you will find thousands of manufacturers. In fact, according to alibaba.com "There are 102,803 portable air compressor suppliers, mainly located in Asia. The top supplying country or region is China, which supply 100% of portable air compressor respectively."
Looking at the various makes and models of small, portable air compressors found, and mentally changing the color scheme of the various makes and models, you will be hard pressed NOT to find an almost identical model of the North American brand, being made in China.
DeWalt states that their compressors are made in the USA. Added to that claim is the statement "from globally sourced parts".
DeWalt compressors built from Chinese parts?
If we consider that Asia, and China specifically, have some of the largest compressor manufacturing companies in the world, and all those compressors are built made from parts made in China or Asia, is it a stretch to think that some of those companies are making the parts for DeWalt air compressors that are assembled in the US? Nope, don't think so.
For the DeWalt air compressor brand, that's not a bad thing, since so many of the competitive products are, too, made overseas.
Where are the compressor parts?
The thing is, unless the company "making" the compressor in North America has a North American distribution network and range of outlets, it's very difficult (read that as non-profitable) for those retailers to offer a comprehensive parts supply.
The big box type stores sell the small portable air compressors for such a low price that there cannot be any really high quality parts in them, nor is there money in the process to allow for a parts distribution network in North America.
DeWalt seems to take a different path.
They don't "give" their compressors away. For compressors of comparable size and shape, it's common to see DeWalt as being the higher priced competitor, even if the compressors come from the same Asian factory, or if assembled in North America with imported parts. Why is this? Read on.
Get DeWalt compressor parts?
Fortunately, and unlike many of the makes a models of air compressors available to the small compressor user, DeWalt does have a parts supply chain.
Visit dewalt.com, click on the service link at the top, pick the country, and then input the model number of the compressor. Odds are good that you'll find a parts diagram, parts list, along with the manual and other information for that model of compressor.
Providing that after-sales supply network isn't cheap.
Couple that with our perception that DeWalt's compressors contain parts that are of better quality than comparably sized brands, it is no wonder that DeWalt compressor pricing appears to be out of line with comparable sized compressors.
But we believe that there is value there.
What's better, a cheaper compressor with no after-market parts supply, meaning you use it up and through it away, or a higher cost compressor that may be made with more quality parts and one that can be fixed when it fails? After all, every compressor will fail. It's only a matter of time and use.
What's better for your compressor use? You call.
Ask a DeWalt compressor question!
There are many folks out there that love DeWalt compressors. Probably just as many don't. Yet, all are users of various models of DeWalt air compressors.
Got a question about a specific DeWalt compressor model. Add it below. Odds are good the internet will provide some help.