Hey! This site is reader-supported and we earn commissions if you purchase products from retailers after clicking on a link from our site.
Well priced, readily available on line from a number of outlets as well as some big box stores around the nation, what's not to like about the Senco air compressor line? Almost all of the reviews I was able to find on line paint these very portable air compressors as ideal for the jobs they are designed for. Those reviews that were negative had to do with reliability, service and repair. More on that later in this article.
What's a Senco air compressor good for?
If you do brad nailing work, and want a compressor that's extremely easy to carry from job to job, that runs of 120 VAC household current, and will drive all but production oriented nailers, the Senco is for you.
These compressors will not have a capacity for supplying larger volume air tools like framing nailers, unless there's only one or two shots, or you are prepared to wait for the tank to refill after every few shots. Ditto any grinding or drilling tools, it's just not big enough. But then, the ideal use is small air-demand jobs where you want a light-weight compressor to carry to the job location, right?
One reviewer suggested that it's too slow for filling car tires. What's the hurry. With a typical cut-out pressure of around 125 PSI, there's lots of pressure for tires. If the flow out of the Senco is too low for fast tire filling, fill the tire slowly.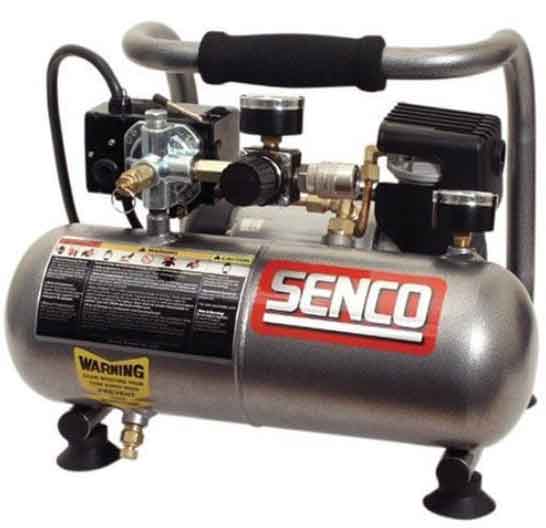 Who makes Senco air compressors?
Well, this question about who makes Senco air compressors brings us into the realm of complaints about them.
Almost certainly the entire range of Senco compressors are made in Asia. Why? Low cost, of course. After all, it's hard to retail a compressor in North America for under $100 and expect that the manufacturer is going to be quality conscious, using only the best materials, and located in North America.
At the factory level, in quantity, I'd be surprised is these cost more than $30. Add in shipping, duty, distribution mark up, and that becomes the $100 or so these sell for.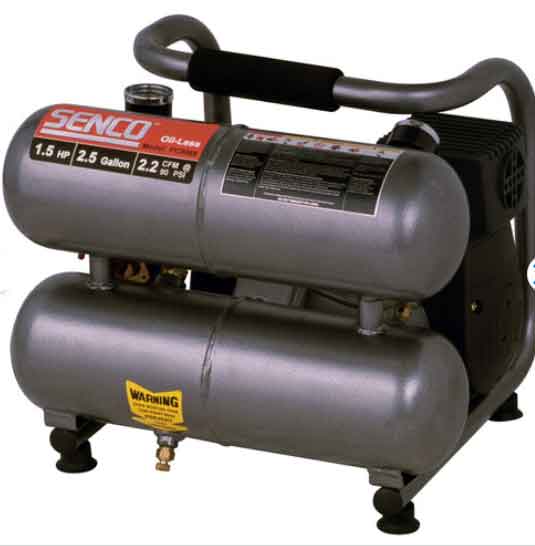 There will not any money in these compressors for domestic companies to order, stock, handle orders for, and ship parts.
There is virtually no after market parts supply, except for those items standard on most compressors… regulators, gauges and pressure switches.
When the Senco air compressor fails.
That means that when the Senco air compressor fails, unless it's a standard part that stopped working, odds are very good there will be few parts available to fix the pumps etc.
There is no shortage of companies that sell the Senco brand. Their website will provide distributor info for you if you care to follow up with any of them. However, if any of them have any rebuild parts for the Senco air compressor, I'd be very surprised. Go ahead, prove me wrong!
To support that, when you visit the Senco site, click on the parts & service link. Do you see any air compressors there? Nope. No parts available.
When you buy a Senco compressor…
If you are looking at the Senco compressor line to acquire a new compressor don't look at these if you need air for high demand air tools and don't look at the Senco compressor if you plan on using the air compressor to earn a living.
Do look at them if you need a small, easy to carry compressor, able to run "one shot" type air tools, fill basketballs and footballs, the odd tire, blow of work benches (limited use here, but doable) and fully understand that they are low-cost, have limited life, and are essentially throw-away when they fail.
How long a Senco will last really depends on how much use it sees. Using it once a week for five minutes? It'll probably last years and years.
A Senco compressor question or comments?
Do try contacting Senco.
Senco Brands, Inc.
4270 Ivy Pointe Blvd. Cincinnati, OH 45245
Phone 800.543.4596
Monday – Friday 8:00AM – 5:00 PM
www.senco.com
And, this page is here to provide a bit of information about Senco air compressors and to offer Senco compressor owners a place to ask questions of other Senco compressor owners. Help yourself to the info and feel free to post a Senco air compressor question below.