Hey! This site is reader-supported and we earn commissions if you purchase products from retailers after clicking on a link from our site.
Wondering about Snap On air compressors?
Most folks in North America are familiar with the mid-size white vans with Snap On emblazoned in big red letters all over them, traveling their routes, and selling well-reputed Snap On Tools to shops and garages on the way.
As part of their product mix, Snap On offers their customers Snap On brand air compressors as well.
They have other channels to market for the Snap On air compressor range. They sell their shop / garage line of air compressors on line through their own web site, and their route sales people. The on line perception is that these products are of very good quality.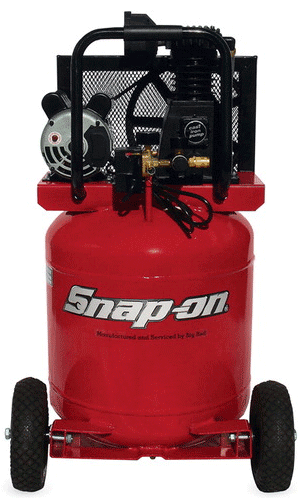 Snap On compressors are also available from Amazon, and other on line outlets. Many big box stores like Costco and The Home Depot sold Snap On compressors and presently they are still available from Northern Tool. The perception at on line news groups is that the Snap On compressors available from retail outlets are not the same quality as those bought directly from Snap On.
Who Makes Snap On Air Compressors?
Snap On does not manufacture their air compressors. Like other major retailers Snap On shops at various compressor companies for their compressors, buying a range or model from one, other models from other companies, all branded with the recognized Snap On brand.
Users indicate that over the years Snap On Air compressors have been built for them by companies such as Rolair and The Big Red One  made by Sleegers Engineered Products Inc.  in Canada. Another Canadian company, Brahma Compressors is said to have made compressors for Snap On as well. The thing is, even these companies don't make all the parts, but assemble various components into a finished compressor that is labeled as Snap On.
Various Manufacturer's Mean Parts Supply Issues
When you buy a Snap On air compressor, it is going to fail! Not just Snap On compressors will fail, of course, but when you buy any brand of air compressor and start using it, the clock is running, and one day, something will fail and your air compressor won't work.
Where do you get parts for your Snap On air compressor?
The logical place to start is their customer service line from 8-5, Central Time, Monday to Friday: toll free number at 877-762-7664. You will want to have the model number and probably even any serial numbers handy when you call. Ask their service people about parts and if they are no longer available for your model, do they know who made the compressor for Snap On originally. If they have that info, contact the original manufacturer for parts availability.
Depending on what has gone wrong with your Snap On air compressor, many parts can be sourced elsewhere. Pressure switches, PRV valves, regulators and the like need not be Snap On brand to work on their air compressor.
Post your question or ask for parts help here!
This is your forum page about Snap On air compressors. Post a question, offer advice, however you can help with Snap On air compressors, this is the page to do it. Please note that questions or postings not related to Snap On air compressors will not be published on this page.
Manual for compressor part number bra6180v – provided by Roy Preston