Hey! This site is reader-supported and we earn commissions if you purchase products from retailers after clicking on a link from our site.
Welcome to the world of Atlas Copco compressors their website boasts.
That is a valid statement considering that Atlas Copco has been in the business of air compressor and industrial equipment for over 100 years, and their products and services are available in dozens and dozens of countries around the world.
Unlike some other major air compressors, Atlas Copco is seriously in the business of providing rental air compressors, air compressors that can be acquired for a specific project, and then returned when the need for that expensive piece of capital equipment is over.
For those applications requiring Oil-Free compressed air, Atlas Copco has solutions. For other industrial needs, they offer a broad range of Oil-Lubricated air compressors.
You can acquire a reciprocating (piston) air compressor from Atlas Copco, or they offer a broad range of rotary screw type compressors as well. Typically, their line of tow-behind (portable) air compressors, with a range of power supplies, are of the rotary screw design.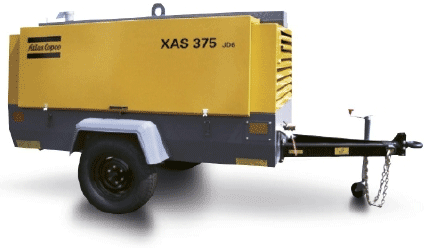 This Fix My Compressor site was conceived originally to help folks with their home or small workshop air compressors. We are finding that folks are posting questions about all kinds of air compressors, including the Atlas Copco compressors line.
The logical first step if you are having a problem with your Atlas Copco air compressor is to contact them: Their American customer service team can be contacted at 800-732-6762 or accmt.acconnect@us.atlascopco.com. Visiting their site will provide contact info for other offices around the world.
The folks behind this Fix My Compressor website are not experts in the use or maintenance of the tow behind  portable air compressor. Many folks are, however.  Questions posed about any problems with the Atlas Copco air compressor will be found at the bottom of this page. We invite you to help users of these compressors whenever you can by adding your advice to the questions below. Of course, if you have a question, feel free to post it as well.
Please note that questions about other than Atlas Copco air compressors will not be posted on this page.