Hey! This site is reader-supported and we earn commissions if you purchase products from retailers after clicking on a link from our site.
Kobalt air compressors are the house brand of the Lowes of big box store fame.
Made for Lowes, the Kobalt line of air compressors is powered by electric motors and come in portable and fixed styles. The range of motors is from 1.5 HP up to 5 HP.
These motors power a range of Kobalt compressors, small 3 gallon tanked units with a 1.5 HP motor up to the 5 HP vertical fixed style with an 80 gallon tank.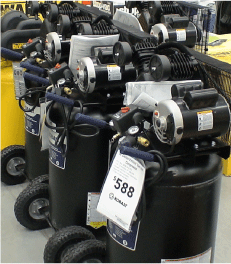 We would categorize the Kobalt line of air compressors as mid-use. By this we mean that we would have no problem acquiring a Kobalt compressor for our home workshop or garage. We might even purchase a Kobalt compressor for our work, assuming that our use of compressed air was incremental, and not used continuously. If we were looking for a compressor to do work for us 8 hours a day, five days a week, we probably would not buy the Kobalt air compressors range.
Here's why.  After sales service.
Who Makes Kobalt Air Compressors ?
Like all department stores or big box stores, the stores do not make their own house brand products. They outsource, and that source will change from time to time.
At any point you might buy a Kobalt air compressor made by YY Company, and it may be possible to get the same model air compressor made by ZZ Company. Where do you get parts? Who do you talk to about service?
Your air compressor will eventually break down. When, not if, it does, who looks after you?
That's why we would tend to steer clear of any big box store house brand air compressor if we needed one for production purposes. We would always go to an industrial compressor distributor, one that has the expertise and the parts to get us back up and running when the need occurred.
Having said all that, for light use, no worries. Buy the cheapest Kobalt air compressor that does the job – that means has the air flow you need for your air tools – and when it breaks, by and large you'll toss it out and buy another.
Do you have a Kobalt air compressor? Care to share your thoughts on them? If so, please provide the model number too so that others can read how you feel about your Kobalt.