Hey! This site is reader-supported and we earn commissions if you purchase products from retailers after clicking on a link from our site.
Since we've been asked a question about Broom and Wade – Broomwade air compressors –  we thought we would add a page of information about them.
First off, if you have a Broom and Wade air compressor, it could date back to the late 1890's, since that's when they first started making compressors and woodworking equipment. The company was originally Broom & Wade, and then changed it's name to Broomwade back in 1919.
Broomwade air compressors became Holman, and then Compair, and now they are a brand of the Gardner Denver corporation.
Here's a look at a more modern Broomwade reciprocating compressor (that's what they specialize in) but given that they have been manufacturing them for more than 100 years, and their size varies up to monstrous in cylinder size and capacity, yours may look quite a bit differently.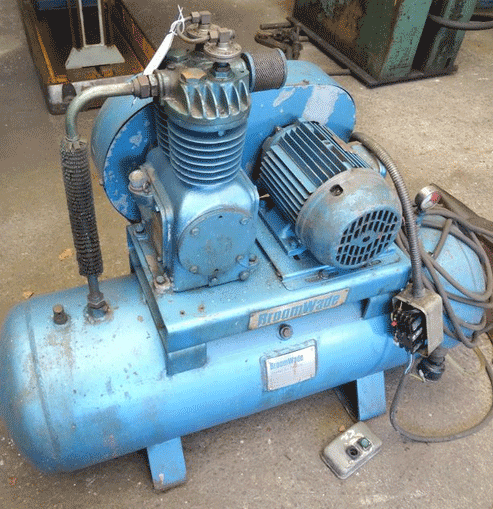 The question that comes up frequently about this brand of air compressor is, where do you get parts?
The logical first step is to contact the source. Here's where:
Gardner Denver Limited
Claybrook Drive
Redditch
Worcestershire
B98 0DS
T: +44 (0) 1527 838600
F: +44 (0) 1527 838630
E: highpressure@gardnerdenver.com
Where to get Broomwade Air Compressors Parts
If the source cannot help, then it's time to scour the online auction and sales houses, trying to find your model, and if the price is doable, acquiring another to cannibalize.
If you have a decent machine shop close by, and you know what part has failed, custom parts can be made.
Things like seals – assuming they are not "O" ring type, can be fabricated by using high-heat gasket material and with the old gasket as a template, new can be cut to size.
And, you can post your search for Broomwade air compressors parts and service below. Good luck in your hunt.