Hey! This site is reader-supported and we earn commissions if you purchase products from retailers after clicking on a link from our site.
For years it was assumed that Ingersoll Rand air compressors were built for the industrial market. And they certainly were. We are not sure when IR made the move into, shall we say, smaller, more consumer oriented compressors, but they are in this market too, with a vengeance.
On this page we would like to focus on the smaller, reciprocating Ingersoll Rand air compressors. Yet, with the comment section, we invite questions from folks using any of their models.
If you are an IR air compressor user, and you see a question or comment that you can help out with, leave your thoughts as a comment there, if you would. Of course, only comments and questions about Ingersoll Rand air compressors can be added to this page.
We are focusing on Ingersoll Rand air compressors, like the bad boy shown in this next photo. Sweet machine, hmmm?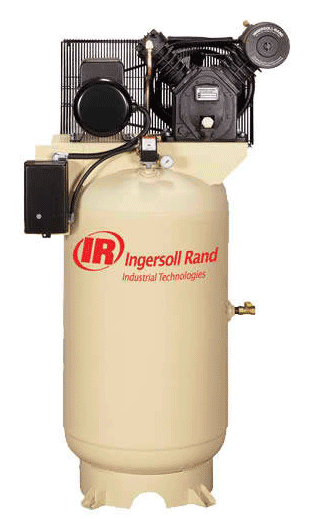 Ingersoll Rand air compressors are available from industrial supply houses, yet nowadays are available from a string of retail sources like the Home Depot, Tractor Supply, Northern Tool and a host of on line suppliers.
We would like to think that their move to a more consumer oriented product did not mean that they cheapened the quality of their historically quality oriented and reliable compressors.
At least, when you buy an IR air compressor, you can talk to the manufacturer should you have a problem. In North America technical support for the Ingersoll Rand brand of compressors is available from:
North America
800-E Beaty Street
Davidson, NC 28036
USA
+1-704-655-4000
Ingersoll Rand Tool Helpline: 1-800-866-5457
If you are looking for help from the Ingersoll Rand compressor-owning community, consider posting a comment or question below.