Hey! This site is reader-supported and we earn commissions if you purchase products from retailers after clicking on a link from our site.
Sanborn air compressors have been around for a while, changing ownership quite regularly during this course. This article will aim to provide you with all the necessary information about Sanborn air compressors, who makes them, contact information and where to source replacement parts!
Table of Contents
Sanborn Air Compressor Information
What Do We Know About Sanborn Air Compressors?
A while before 2008, Sanborn was known as Black Max air compressors before being purchased by Coleman Powermate. Since then, they, along with Coleman Powermate, are now owned and made by a company called MAT holdings who, on their about page, state this:
"World-class domestic manufacturing facilities allow MAT Industries to offer high-quality air compressors, air tools, and accessories to retailers under brands such as …  Sanborn® as well as private label. Our air compressors are sold through retailers including major home centers, hardware co-ops, independents, and farm and fleet stores around the US. "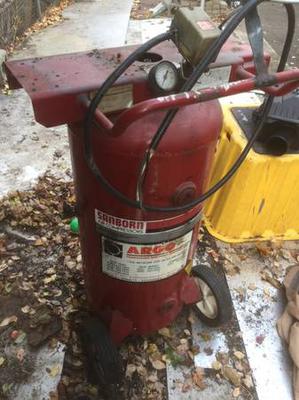 They also claim to be made proudly in the USA, but then… assembled from parts globally. I take that to mean that the low-end versions of Sanborn compressors are imported from offshore and something is done to them here to allow them to claim that they are "made in America". I stand to be corrected if I am not correct on that.
Who Makes Sanborn Air Compressors?
Sanborn used to make their own and very popular Black Max compressor range in their factory in Springfield, Minnesota. Since 1994 the company Coleman Powermate bought Sanborn and the Black Max air compressor name.
The Sanborn / Black Max compressor range isn't actually sold anymore. Spareparts and second-hand units can still be bought online with adequate research. Since 2008, when Coleman Powermate filed for bankruptcy, MAT Industries now produces the Coleman Powermate range.
Sanborn Air Compressor Parts
The problem with Sanborn air compressors as I see it is that they are aimed at the small workshop/homeowner market. Typical for that market segment is often a limited supply of after-sale compressor parts, at least, those that are unique to the Sanborn model. Valve plates, pump gaskets, pistons, and cranks come to mind.
Like other manufacturers, however, a lot of the external parts can be sourced elsewhere as they are pretty much across-industry standards. Things like pressure switches, unloader valves, PRV's, regulators, and the like.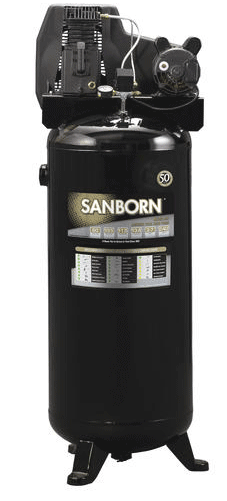 This means that someone unfamiliar with fixing compressors that are looking for unique Sanborn compressor parts may have a problem finding them. Here is an Sanborn regulator manifold kit readily available on Amazon.
Sanborn Coleman Powermate Air Compressor 105-0004...
Fits air compressor parts: 84A150, 104200, 104A200-22, 112A300, 143A400, 400A30H, 34A50, 34B50
Fits air compressor manifold parts: P0502010, CP0502010
Regulator parts for older belt driven units
Parts: 64BL100, 64BL150, 89BL200, P0302013, P3001113, P0502013, P0502513
Last update on 2023-11-27 at 09:25 / Affiliate links / Images from Amazon Product Advertising API
Sanborn Air Compressor Contact
Is that you? Is your Sanborn compressor down and do you need parts that are not available off-brand? Want to try and get some help from MAT holdings about your Sanborn air compressor?

Call them at: (847) 821-9630. During business hours – this reaches their office in Illinois.

You might also try emailing: info@matholdingsinc.com.
Another great option is contacting powermate or visiting their website for help!
Powermate
800 Hinesburg Road
South Burlington
Vermont 05403 USA
W:Powermate.com
T: 1-888-440-5170
---
If Fix My Compressor can be of any help to you and your Sanborn query, please leave a question below and someone will get back to you.