Hey! This site is reader-supported and we earn commissions if you purchase products from retailers after clicking on a link from our site.
Depending on the type of air compressor you have, getting compressor parts can be straightforward, or nearly impossible. Why?
If your air compressor was acquired from an industrial-type compressor distributor, not only will that distributor be able to get parts for your air compressor, but they likely also provide a service department that will visit your shop, diagnose the problem, obtain the compressor parts, and then install them for you.
However, many of us have an air compressor that we purchased from a big box store, department store, auto parts outlet and the like. These are all compressor distributors too, but they have nothing in common with the industrial air compressor distributor.
The retail distributors offer a range of compressors. They often have a house brand air compressor to offer too. But their business is selling consumers air compressors and air compressor accessories like tools, hose and the like. Not spare parts and definitely not air compressor service.
Rarely does any retail outlet have any compressor parts for the brand of compressor you purchased from them.
Further, is our experience that the typical floor clerk in the typical big box store have virtually no experience with air compressors, with sizing them, with identifying the correct compressor for a customer's needs, and they surely don't stock compressor parts.
Then where do I get compressor parts?
First off, since all air compressors will ultimately fail, where you get parts for any particular brand of compressor should be an issue for you when you are selecting a brand of compressor. Ask the vendor where you get spare parts when – not if – you need them. No parts supply? Maybe pick another brand of compressor?
Depending on the brand of air compressor you purchases, that supplier may have an online presence that can help you with spare parts for the compressor pump and motor.The logical first step then is to use your computer browser and search for – parts for xxxx air compressor – replacing the x's are in the search string with your brand of compressor.
Many compressor parts are interchangeable
While there are many air compressor manufacturers in the world, it seems that a few of them dominate the house-brand air compressor market. What does this mean?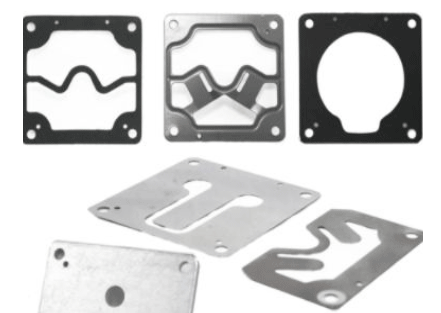 Just because you bought a blue compressor from one store, the yellow air compressor of the same size and appearance from another store may be from the same plant. After all, a different color paint does not really make a different air compressor.
You can't lug your compressor with you into a store, but you can take digital pictures of parts of your compressor, particularly the pump. Take the photos with you into the store and compare the appearance of the pump on another compressor with your own.If the pumps are the same, it's a pretty good bet that the spare parts are too. Of course, this new store may not have parts either.
The only OEM spare parts that are essential for you to use are those parts in the pump. Other items on the air compressor that can be replaced by non-OEM spares are:
pressure switch
pressure line from pump to tank
line from tank to unloader valve
tank check valve
tank drain
any gauges
air regulator
PRV's
couplers
These all work the same way, and as long as a replacement fits on your compressor, you're good to use it to replace a failed part. Just make sure if you replace the pressure switch with the non-OEM version, it has the same voltage and pressure ranges. Otherwise, if it fits, use it.
Compressor Pump Parts
As noted earlier, compressor pump parts are pump specific. A valve plate from one brand may not fit another brand.
On the other hand, it might. We believe there are only a small number of compressor manufacturers offering the DIY brand of compressors, and as such, parts from one may fit the other. Your browser search engine is your friend when it comes to finding parts from one pump that may fit another.
Find out, if you can, who it was the supplied the compressor to your store. Was it, for example, supplied by Campbell Hausfeld or Devilbiss? If you can track who supplied it to the store chain, then contact that manufacturer for help. Make sure you have the model number and the brand.
Last, but not least, many folks have manufactured their own valve plates from spring steel when they could not find an OEM replacement. Some have manufactured their own pump gaskets using high-heat automotive gasket material. If you browse for home-made compressor pump valve plates or compressor pump gaskets, you will find guidance in making your own.
What's the compressor worth?
One thing that we have seen repeatedly is the the cost of a new compressor of the same size and make is often only a fraction more than one single spare part for that compressor.
If, in the fullness of time, you cannot find parts, then the solution is to buy another compressor with the same pump on it, start using the new, and keep the old for spare parts.
You may find that in terms of cash and aggravation, this ultimately is the lowest cost way to get your compressor parts.