Hey! This site is reader-supported and we earn commissions if you purchase products from retailers after clicking on a link from our site.
This article will provide you with as much relevant information as possible about Charge Air Pro air compressors, where you can seek help, and download manuals!
Table of Contents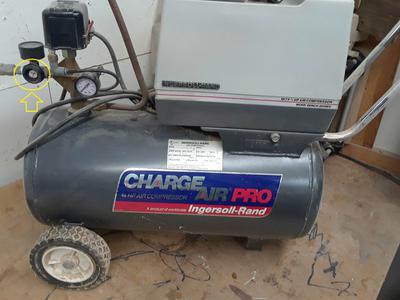 Charge Air Pro Information
A lot of people will tell you that Charge Air Pro is manufactured by Ingersoll Rand, which is true but slightly outdated. Charge Air Pro air compressors were manufactured by Ingersoll Rand between 1983 and 1991. If you have one of these air compressors, you will know that there was an official recall of them. You might want to look into that.
In more recent times, Charge Air Pro air compressors were a brand of DeVilbiss Air Power Company of Jackson, Tennessee, who are also now supplying and private labeling some Porter Cable, Craftsman, Husky and other brands of air compressors.
Charge Air Pro compressors are still being sold, as rebuilt or well-used versions, but as far as I am aware, there are no longer any new Charge Air Pro Compressors being sold. I can only guess that this is because they were a brand of DeVilbiss, who themselves have been on quite a journey…
In 1999, DeVilbiss was sold to Pentair, who then sold their company to Black & Decker in 2004. Stanley Works merged with Black & Decker in 2010 and then Black & Decker sold the DeVilbiss Air Power line to MAT Holdings in 2011. So, I imagine somewhere within all that shifting, the Charge Air Pro compressor line was discontinued.
Charge Air Pro Contact Information
As Charge Air Pro was last a brand of DeVilbiss air power company, if you have any queries or need to get hold of the manufacturer you're best probably contacting DeVilbiss to seek direction:
Devilbiss Air Power Company
4825 Highway 45 N
Jackson, Tennessee 38305-7900
Though, I wouldn't get my hopes up, I think the days in which you can get help regarding Charge Air Pro compressors, or find replacement parts, are unfortunately behind us… but, I wish you the best of luck!
Charge Air Pro Compressor Manuals
There is one store currently offering what they say is Devilbiss Charge Air Pro air compressors and they're located in Martin Michigan. The company, All Parts Inc. offer a parts list and manual downloads on their website:

W: https://www.allpartsinc.com/
They may also be worth contacting in regards to replacement parts if you need some.
Charge Air Pro Air Compressor Troubleshooting, Problems & Fixes
If you have a Charge Air Pro air compressor and need a bit of help maybe first conduct a troubleshooting page search about problems and solutions that are common to many types of air compressors?
If there is no answer to your problem on those pages then please use the comment section at the bottom of this page to ask your question about Charge Air Pro air compressors and hopefully someone can help you.
If you can help with a question from other Charge Air Pro compressor owners by adding a comment with any info you have, it will certainly be greatly appreciated!
---
Please leave a comment below if you have any questions about Charge Air Pro air compressors!