Hey! This site is reader-supported and we earn commissions if you purchase products from retailers after clicking on a link from our site.
If you have a Central Pneumatic air compressor, and you didn't buy it used, from a garage sale, or from on on-line end-of-line wholesaler, odds are pretty good that you bought it at Harbor Freight.
In 2017, Harbor Freight offers about 35 different Central Pneumatic air compressors, from a 1/6 HP air brush style to a 5 HP, almost commercial type, on a 60 gallon air tank. They even have one model of a gas-powered, wheelbarrow style, that is quite well priced.
Central Pneumatic air compressors can be purchased through Harbor Freight on-line, or at the many Harbor Freight stores found throughout the United States.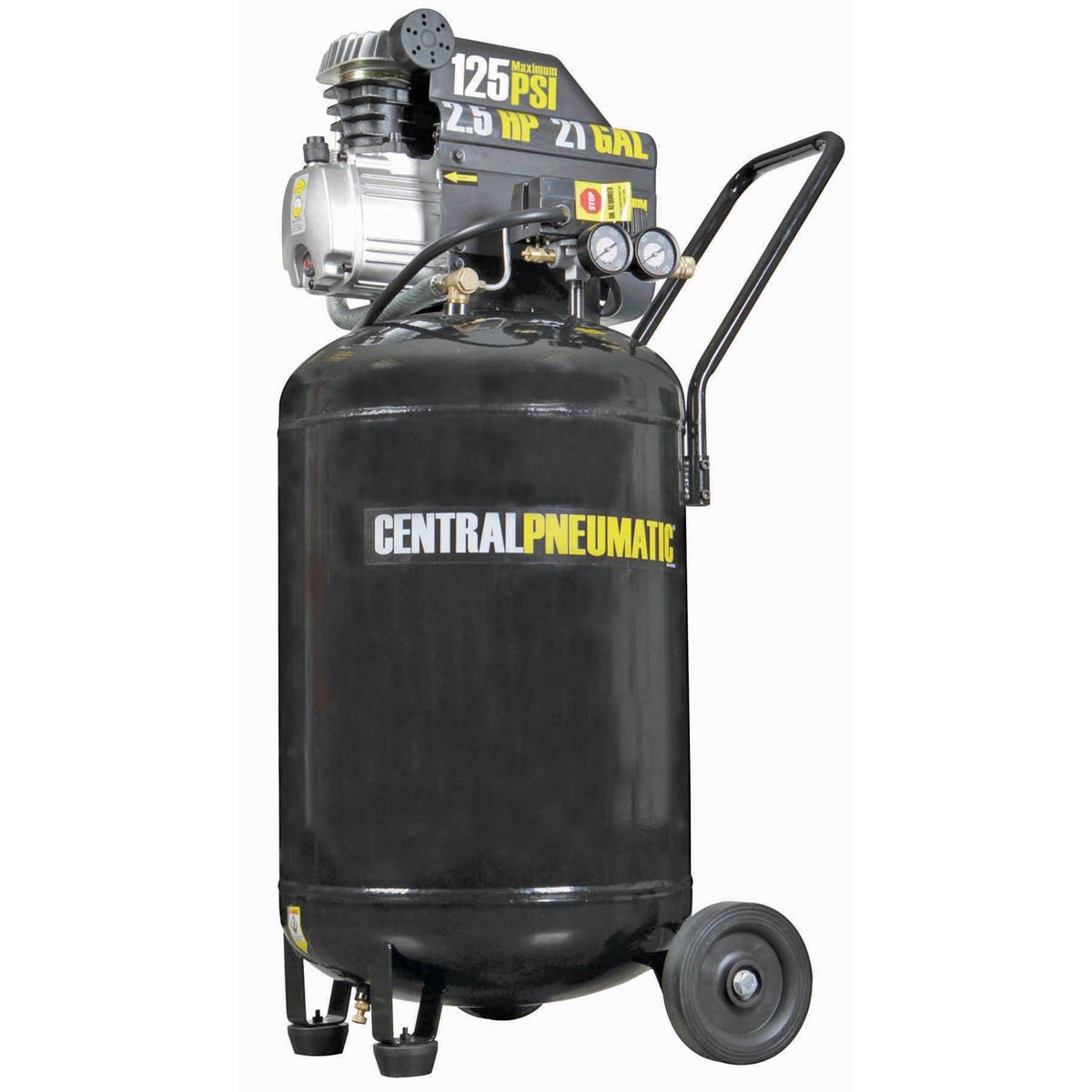 Buyers of Central Pneumatic air compressors are, pretty much I think, aware that you get what you pay for. This line of compressors is entry level. I don't believe they are made for serious compressed air use, where whether or not a compressor works means that trades persons do or don't do work that day.
Which is not to say, if you are a periodic user of compressed air – the typical small workshop or home garage for example – you won't be happy with this brand of compressors reliability. I just wouldn't put the supply of my plants air system at the mercy of this particular brand.
While Harbor Freight boasts of having manufacturing around the world, I would be surprised if they actually owned a factory that makes air compressors. Their entire line is similar or identical to compressors of other brands with different colors and different labels. I could be wrong and will be happy to indicate so if someone can provide proof that HF actually makes their own compressors.
Regardless of whether they make them or not, try to find parts for a Central Pneumatic air compressor. Aside from pressure switches, gauges, regulators, PRV's and check valves (all the same as those found on many other brands) there are very few repair parts for the compressor pump or the motor. Parts from other Central Pneumatic air compressors can often be used on other models of this brand. If you can scrounge or buy a non-working compressor, some parts from the old can be reused to fix others that have failed. Depends on your skill level as to whether or not this works for you.
If you are having a problem with your Central Pneumatic air compressor why not add a question or comment here? Include the model number of your compressor. As a result, perhaps the Central Pneumatic air compressor owner/user family, which is a huge one, can offer advice as some of them will, undoubtedly, already dealt with the same problem you are experiencing with your HF Central Pneumatic air compressor.
Additional pages of information about Central Pneumatic air compressors can be found on these pages on this site: