Hey! This site is reader-supported and we earn commissions if you purchase products from retailers after clicking on a link from our site.
Starting up an old compressor need not be scary or complex. Lots of folks end up with an old air compressor… found in a garage sale, or Uncle Freddie left you his tools along with his vintage air compressor, and so on.
If you've been fortunate enough to acquire one, here are the steps we recommend for starting up an old compressor.
Clean the Compressor
While some folks consider a thick layer of dust to be sort of a protective coating, don't believe it when it comes to starting up an old compressor. Air compressors run hot, and need to have heat-dissipating surfaces clear of dust to ensure heat transfer to the atmosphere from the pump head, and motor cooling fan
A good cleaning will result in a pretty close inspection of all of the air compressor too.
You are looking for obvious flaws, leaks, broken components etc. If parts are clearly missing or broken, you will need to replace them before firing up the old beast.
Drain the Compressor Tank
It is unusual for an old air compressor to have air pressure trapped in the tank, but just in case, open the tank drain valve slowly and carefully, all the way to full open.
Even if there is no air in the tank, if there has been water sitting in the tank for a long time, it is possible tank-wall corrosion has begun.
If water and debris dribble out of the tank drain when you open it, note if the water is reddish, which would suggest that it's got rust in it. A dribble of rusty water is not great, but don't panic yet. Some rust does not mean that the tank is unsafe, but it is a benchmark.
We sure recommend the modification of the tank drain that you can see below.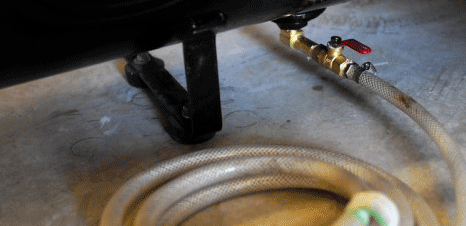 About the Compressor Tank
Is the tank OK? Does it need testing? Tough to be sure, and testing an older compressor tank is easier said than done.
Hydro-static tank testing is the sure way to certify that the air tank is sound, yet that is expensive and requires transporting the tank (and compressor pump attached to it) to the test facility.
Another way to test the integrity of a compressor tank is to fill the tank with water, and then, using a hand hydraulic/air pump, force air into the full tank so that increasing air pressure is forced against the water and the tank wall. If a part of the tank wall lets go due to it being weakened by corrosion – and this typically happens along a corroded weld seam – the result is water leaking as opposed to an exploding tank, or so it is noted by those that have used this method.
You might take a less complex approach. Using a rubber mallet, tap over the whole tank, focusing in particular on weldments, to see if the tank metal deforms under the rubber mallet blows. If the tank deforms easily, that suggests a real weak spot, and a replacement air tank is indicated.
When you get the old compressor running, let it build pressure in the tank in increments of 10 PSI, shutting the compressor off at each increment, and inspecting the tank looking and hearing for leaks.
Compressor Power Cord
Make sure that the compressor power cord is free of nicks or cuts.
Ensure that the plug on the end of the power cord is in good shape, and is one suited to a typical 120 VAC wall socket. If the plug looks unusual that may indicate that the power supply is not 120 VAC and you want to investigate the information on the motor plate for details about the power supply for that compressor motor.
Compressor Oil
While old compressor oil is not good oil, and we certainly recommend that old oil be changed for new fresh compressor oil right away, when you are starting up an old compressor, you want to make sure it works.
Make sure – using the dipstick or sight glass – that the compressor has the right level of oil. If not, add some.
Once you've got enough oil in the sump, that should be good enough to check the compressor but you do not want to run the compressor for any length of time without changing the oil completely.
If the compressor starts and runs and starts to build air, you now know it works. Shut it down and change the oil.
Intake Filter Clean
If a single cylinder compressor, there should be an intake filter installed near the top of the pump. If a twin cylinder compressor, there will likely be two intake filters, one for each cylinder.
If your air compressor is a fractional HP compressor, a really small one, there may not be an intake filter at all.
If your compressor has an intake filter, remove it from the intake, determine how to remove the filter cover, and check the cleanliness of the filter media. If it's really dirty, leave the intake filter off while testing the compressor.
Before you run the compressor for any length of time, replace the filter element and reinstall the filter housing on the pump head.
Start the Air Compressor
Plug the compressor cord right into a wall socket. Do not use a power bar or extension cord.
With no air in the tank and the compressor powered up, it should start. Unless, of course, there is an On/Off switch. If there is one of those, turn it to ON.
Compressor started?
Good stuff.
Monitor to tank gauge and when the compressor tank pressure gets to 10 PSI, shut the compressor off. Listen and look. Any leaks? No? All right, fire it up again and let the pressure build to 20 PSI. Stop it and check again. If no leaks then repeat the process.
If you have any issues developing while starting up an old compressor, see the troubleshooting pages on this site for advice.