Hey! This site is reader-supported and we earn commissions if you purchase products from retailers after clicking on a link from our site.
Compressor intake filters hang out there on the edge of the compressor pump like a pimple on the side of your nose. You're walking by with a 2 x 4 in your hand and accidentally whack the side of it, and oops –  I broke the compressor intake filter!
A lot of compressor intake filters are made of plastic and as such, are very easily broken. A gentle tap (accidentally of course) in very cold weather and the plastic intake filter shatters.
Another common scenario for breaking an intake filter is driving with a compressor upright in the back of the SUV or pickup truck. You turn a corner too tight, and BAM, the compressor's over on it's side and little pieces of air compressor intake filter are scattered all over your vehicle.
When this happens to you, or rather, if you do happen to break the compressor intake filter, and you have a lower cost DIY type air compressor that's got a few years on it, you may have a hard time finding an OEM replacement. No worries! Have a look at the image of the intake filter.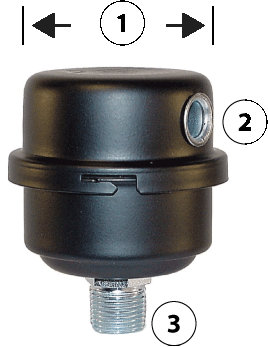 Dimension one refers to the diameter of the intake filter. Item two refers to the actual size  air intake opening or portal. Item three is the male thread on the intake filter.
The purpose of the air intake filter is to prevent fairly large particulates from entering the intake port of the air compressor. These devices are not filtering air to the micron level but are considered more general purpose.
We mention this because in our opinion, pretty much any air compressor intake filter that…
Has an overall diameter that is close but not hugely smaller than your original filter
Has an intake portal the same or larger than the original
Has a thread size that is the same as the original and with the same thread location
… will work just fine on your air compressor.
We DO NOT recommend that you run your air compressor without an intake filter. The industry would not include one on your compressor if it wasn't necessary.
If your compressor is out of warranty, using a non-OEM intake filter will have no voiding-warranty implications. So, get one anywhere you can. If you Google air compressor intake filter you will find many on line offerings.
Pick the one that's closest to yours using the criteria listed above, and you'll soon have your compressor back up and running.
Though, when we acquired our replacement intake air filter, the model we purchased was made of metal, not plastic like the original that broke so easily!