Hey! This site is reader-supported and we earn commissions if you purchase products from retailers after clicking on a link from our site.
Brian says … I have a Husky 60 gallon 7 hp compressor that builds up to 35 psi then the motor cycles on and off.
If I keep the air bled before reaching 35 psi it runs fine but once it hits 35 psi you can see in the motor is engaging and disengaging.
Do you have any ideas.? Thanks.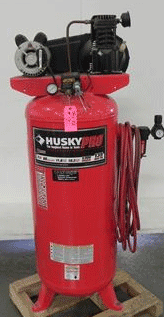 Willyr says… Well, Brian, normally your cut in would be in the 100 PSI range and cut out may be 130 PSI or so… not quite sure what the actual specs are as you didn't include the Husky compressor model number so I cannot check.
So, the only time the air pressure in the tank would fall below 35 PSI is when you have drained the tank down that far. Draining the tank often is good so that in itself isn't a problem.
You say you can see the motor engaging and disengaging at 35 PSI?
If by that you mean you can see the motor power on and off, that would suggest that the power supply to the motor circuit is intermittent, which could point to an issue with the pressure switch if the points are worn to the point that they don't stay connected.
It could also point to a capacitor problem.
So, check both of these (see the pages on this site about how) and then post a comment here with your findings, if you would.