Hey! This site is reader-supported and we earn commissions if you purchase products from retailers after clicking on a link from our site.
Mastercraft air compressors are the house brand of a nationwide Canadian company called Canadian Tire stores that markets a broad range of homeowner and light industrial tools and equipment, all under the Mastercraft brand.
This page will provide you with as much relevant information as possible, where you can seek help, download manuals, and navigate existing problems and solutions available on this site.
Table of Contents
Mastercraft Information
The brand, Mastercraft, is the name for Canadian Tire's household-type tools and equipment. They also have a Mastercraft Maximum line which is more industrially oriented.
Mastercraft air compressors can be purchased at the Canadian Tire stores chain found throughout Canada as well as online in Canada and in the U.S.A. through theirs and some other websites.
Canadian Tire also sells a few models of another in-house brand of air compressor, the MotoMaster air compressors. These types used to be 12 VDC compressors designed for airing-up tires, and were, consumable. The sort you use until it breaks and then toss it out. More recently they have started offering MotoMaster compressors in larger sizes, with 120 VAC motors and larger pumps.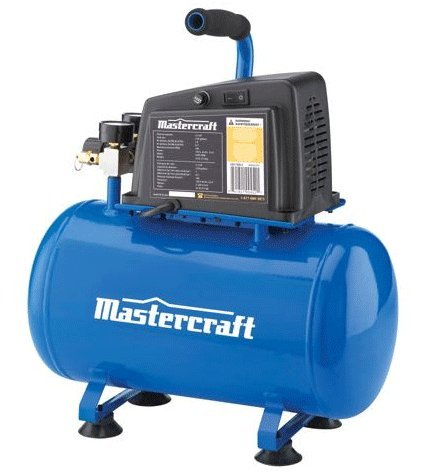 Canadian Tire does not manufacture their compressors themselves, which is the same, as other big-box type stores. They have companies around the world that manufacture Mastercraft and Motomaster air compressors for them, usually from Asia. The actual manufacturer of the compressor acquired may vary differently from one that was acquired at a different time as the manufacturer will be whoever offers the cheapest price.
By and large, because Mastercraft air compressors are cheaply made they're very cheap to buy. On sale, you may get lucky and be able to purchase a new one for under $100. With a retail price for a compressor at that level, there is nothing in that price to cover any costs relating to handling the shipping of compressors out for repair, for stocking parts, or for employee training in compressors. Essentially, you get what you pay for.
Further, from one year to the next it could be a whole different company making the Mastercraft air compressors for that model year. Leading to compressor shapes, sizes, and capacities changing often, making it harder for you to get replacement parts. Canadian Tire will constantly adapt its compressors and prices to meet the changing needs of its market.
Mastercraft Contact Information
You may find it difficult to get hold of anyone with particularly great knowledge of Mastercraft air compressors, due to them being an in-house brand of Canadian Tire. I will, however, recommend trying to contact Canadian Tire's customer service desk in hope that they're able to direct you to somebody who can help:
Website:  https://www.canadiantire.ca/en/customer-service.html.
Or their online customer support line: 1-866-746-7287
If you have any troubleshooting issues, problems, or require fixing of any sort, this contact information is the best place to start. Unless, you have your Mastercraft air compressor owner's manual at hand, as this may provide specific contact information for when you're having trouble!
Though, be warned; Canadian Tire big-box style stores offer little, if anything, in after-market compressor parts for the compressors they sell. Therefore, if you have a problem with your Mastercraft air compressor and you have owned it long enough that it is out of warranty, good luck getting parts for it.
Mastercraft Troubleshooting, Problems & Fixes
On the topic of troubleshooting, problems & fixes, there was a time when Mastercraft air compressors had to be recalled. A recall of an air compressor sold nationally by Canadian Tire had been expanded after 18 reports were made about a faulty knob, including one in which there was an injury.
The Health Canada recall is for the Mastercraft 5 gallon air compressor with 1.5 hp. There were 27,000 units sold between January 2014 and December 2016, and all had to be recalled.
The product was made in China by Suzhou Alton Electrical F.O.B and distributed by Canadian Tire under its Mastercraft house brand name.
The regulator knob was found to break off under pressure and may lead to a component failure and cause injury to consumers, Health Canada had warned.
The recalls covered model numbers 058-9315 with UPC 871613006891 and 199-5703 with UPC 871613006389.
It was for all date codes ending in 2014 and 2015, along with the following codes ending in 2016: 9828-1092016, 9828-2102016, 9828-4142016, 9828-5182016, 9828-3192016, 9828-1232016, 9828-5302016, and 9828-1352016.
This information was published in 202, and it's said that similar recalls for the compressor was issued by Health Canada on Nov. 23, 2018, and on July 10, 2019.
Health Canada advised that the recall means the product should not be sold, redistributed, or even given away. They urged owners to return the compressors to their place of purchase for a full refund.
Mastercraft YouTube Reviews
I have picked out a couple of reviews on YouTube of Mastercraft air compressors!
---
Please leave a comment below if you have any questions about Mastercraft air compressors!