Hey! This site is reader-supported and we earn commissions if you purchase products from retailers after clicking on a link from our site.
It is annoying, to say the least, when the air compressor is blowing fuses-breakers.
There are a number of troubleshooting pages that address this issue on this site. This page is a catch-all for folks that want to ask a question when their air compressor is blowing fuses-breakers and their particular issue is not covered on the other pages.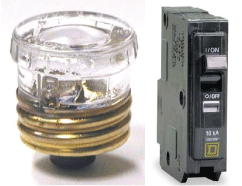 If you care to review the other pages first, they are listed here:
Compressor Is Blowing Fuses-Breakers
If you are not plugging your air compressor cord directly into a wall socket, perhaps using an extension cord or a power bar, you are writing the recipe for having your compressor blow a fuse or breaker. You need a clean, short power corded power supply to most air compressors, as their motors are typically running right on the edge of not starting. By using an extension cord you may be starving the motor of sufficient power, the motor overheats, and a blown fuse or breaker may result.
If your air compressor is running overly long, perhaps air is blowing back out of the intake valve instead of down into the tank, then the motor will heat up and that could lead to a blown fuse or breaker. If you note that the time from typical cut in to cut out of the compressor is extending, that's a flag that there is a problem, and you should address that as soon as you can.
If you note that your air compressor is lugging as the pressure builds in the tank, that may be a valve issue, but it may also be a failing run capacitor on the motor. If the motor lugs enough the fuse or breaker will pop. If your compressor is starting to struggle when the tank pressure grows, one of the things to check is the motor capacitor.
Have you had your air compressor a long time? Is it well used, or perhaps overly well used? It is possible that the compressor motor itself is the problem when your air compressor is blowing fuses-breakers. The motor problem may be that the windings have shorted, the capacitor wires have come loose, or the motor is just plain wearing out. Consider this issue if you are experiencing fuses and breakers blowing.
Of course, if these issues don't seem to relate to your compressor, you can always add a question below, and we, or other folks, may contribute a response.