Hey! This site is reader-supported and we earn commissions if you purchase products from retailers after clicking on a link from our site.
In terms of keeping your air compressor running optimally, we think compressor auto drains can be a positive factor.
For example, do you drain your air compressor tank regularly – preferably after every use of the air compressor? If you have a spare compressor air tank in the circuit, is it drained regularly. If you have compressed air filters in your air supply to your air tools, do you empty the filter bowl regularly?
The reality for most of us is that compressor auto drains, installed where practical and applicable, would answer all the the questions with a "yes". The absence of them means most of us answer these questions with a "no".
What are compressor auto drains?
One type of an auto drain is a valve that operates regularly and periodically, opening for a specified length of time on a predetermined basis, and uses electricity to provide the power and the timing function. One of these is shown below. One source for this type of auto drain is Grainger. You can see the power supply and the two adjustment knobs. One of these adjusts the frequency of valve operation, and the other adjusts the length  of time that the valve opens each time the timer turns on the power. This model has a manual ball valve installed as well, which is sometimes useful as an override.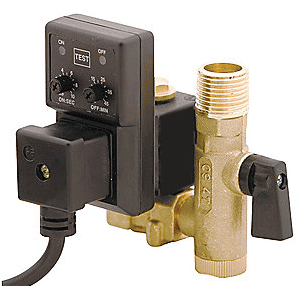 Another is a simple float-type which responds to the rising level of water in a vessel, opening briefly as the water level lifts the float high enough to open a line to the exterior, and when the water level drops, the float does as well, and seals up the drain hole. One of those, supplied by Grainger, is shown in this next photo.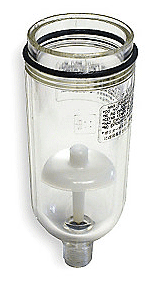 Some compressor auto drain valves can be operated by an air signal. A programmable logic device would have a program built in that would open and air valve and send an air signal to the air-operated drain valve on a timed basis to void water from anywhere in the compressed air circuit the device was installed. One of these, made by Wilkerson and sold by Grainger is shown below.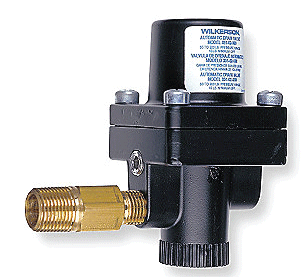 Why have a compressor auto drain?
The compressing of air generates quite a bit of free water.
This water ends up pooling in the bottom of your compressor air tank. It sometimes gets picked up by compressed air in the tank and is flung into your air lines as you use your air tools. Flowing compressed air in the air lines cools, and as the air cools, water condenses out.
Depending on how much compressed air you use and the length of air lines you have to get air from the compressor tank to your application, you may end up with a lot of water in your air and reaching your air tools and other air using appliances. In most cases, these air tools and air using appliances do not fare well when flooded with water.
The strategic use of compressor auto drains – one in the drain port of every tank or air reservoir, and one at every drop leg where compressed air is plumbed down to the air tool, will go a long way in ridding your air system of water.
Frequent and thorough draining of the air tank helps maintain the integrity of the air tank as well, since regular draining keeps the tank dry, helping to eliminate rust over the long haul.
If you have a question about compressor auto drains of any sort, feel free to use the comment box below to ask it.