Hey! This site is reader-supported and we earn commissions if you purchase products from retailers after clicking on a link from our site.
Campbell Hausfeld air compressors are available from a number of sources and this company is a key manufacturer / supplier of private labelled air compressors for a host of other companies as well.
If we could assign a pedigree to a company, then Campbell Hausfeld air compressors certainly have it. The company has been around since 1863. Currently the Campbell Hausfeld is owned by Marmon Holdings, themselves part of the Berkshire Hathaway group.
Many folks consider Campbell Hausfeld air compressors to be low end, low cost, small workshop or garage shop oriented. This is true. They are that. Yet they are more.
A visit to their website shows that they offer a commercial line of air compressors as well. Unfortunately, when you click the link to their commercial site there is no content on the page. Some of the drop down menus work on the commercial site, but my goodness, such a poor website is more than a bit strange for a company of this size and history. This is the situation in early 2016, at least.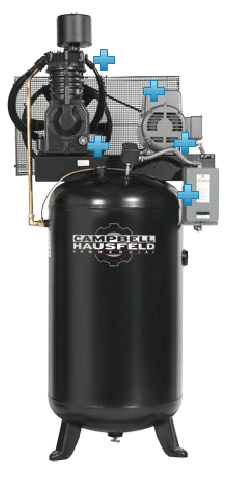 In any case, their commercial line of compressors are both rotary screw and reciprocating, with 5HP motor size and up. The commercial line of Campbell Hausfeld air compressors is available from outlets such as Acklands Grainger, Grainger, Northern Tool, Global Industrial and others.
As to the Campbell Hausfeld smaller air compressor market, they offer quite a range.
From small, fractional HP compressors, to portable units from 1 HP and up, Campbell Hausfeld offer a broad range of DIY air compressors. They can be purchased in many big box stores, and at a host of on line sales sites including Amazon.
One of the good things about Campbell Hausfeld is, if you can locate your air compressor model number, you can usually download the manual and operating instructions for that model from their site. That is a huge plus if you are looking for CH info. Visit the site here: https://www.campbellhausfeld.com/, and drill down to the various pages to find lots of info.
Campbell Hausfeld is a key supplier of privately branded air compressors. If you acquire a different brand and you are looking for information about that brand, check out the models on the CH website. You may find that your different brand air compressor is identical (except for the color) to a CH product, and, if so, typically parts from the Campbell Hausfeld compressor will fit on the other brand.
If you are unable to get help or information about your Campbell Hausfeld air compressor, feel free to use this forum page we have set up. Of course, only questions and comments about the Campbell Hausfeld line of air compressors can be posted here.