Hey! This site is reader-supported and we earn commissions if you purchase products from retailers after clicking on a link from our site.
This question pops up from time to time. " Will my compressor remove wheel lug nuts ?"
The answer is wrapped up in a whole series of issues relating to the air compressor.
First thing to consider is the pressure coming from your air compressor.
Most DIY and smaller air compressors cut out in the 100-150 PSI range. That means that the pressure of the air in the tank when the compressor stops will be somewhere between 100 and 150 PSI.
Next, have a look at your impact wrench manual or on the information plate somewhere on your wrench. What does it show as the operating pressure?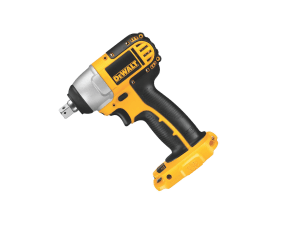 What is displayed as the minimum operating pressure for the impact wrench? Odds are pretty good that number will be in the 80 – 100 PSI range, though more industrial wrenches may show a higher operating pressure.
The thing is, as long as your air compressor has pressure in the tank that is equal to or higher than the minimum operating pressure of the impact wrench, then your compressor has the pressure to run the wrench.
But… and there's always a but, isn't there? 🙂
There is one other factor that is critical to determine " will my compressor remove wheel lug nuts? "
Compressed Air Demand
Have a look at the manual for the impact wrench, or, at the plate on the handle. Does it show what the air demand of the wrench is? That number should be shown in CFM, which means Cubic Feet per Minute.
A small impact wrench may have a compressed air requirement of 2-4 CFM at 90 PSI for it to run properly. The compressed air demand for larger impact wrenches will be quite a bit higher.
Why is this important?
How Much Air Per HP?
The rule of thumb for air compressors is that they will produce around 3-4 CFM of compressed air at 90 PSI for each HP of motor size.
What is the HP of your compressor motor?
If you have a 2 HP motor on your air compressor the rule of thumb tells us that your air compressor is capable of producing 4-8 CFM of compressed air supply at 90 PSI.
Compressor Output & Your impact Wrench
If your impact wrench has a minimum operating pressure of, say, 80 PSI and your compressor has 130 PSI of air in the tank, then you have lots of pressure to run that impact wrench.
If your air compressor has a production flow of 4-8 CFM and your wrench requires 4 CFM at 90 PSI to run properly, then you have the flow to run that impact wrench.
Will My Compressor Remove Wheel Lug Nuts?
In the example shown, your air compressor will have sufficient flow and sufficient power to drive the impact wrench, and it should have no problem removing the wheel lug nuts…
But… dang, here's another but!
You have to ensure that the air supply to the wrench is not compromised by having a too small air line, or a too long air hose to the air tool. The pressure drop caused by a problem air line could take the supply volume and pressure available to the tool out of the sweet spot for that impact wrench, and then the impact wrench will not deliver the torque desired.
And, you have to be sure that the wrench you use has the torque necessary to turn off those wheel lug nuts.
If you are using a 1/4″ impact wrench on a 2″, rusted on lug nut, hmmm. we'd expect you might still have a problem.
Here's more information on the subject of why an air impact wrench won't remove lug nuts: