Hey! This site is reader-supported and we earn commissions if you purchase products from retailers after clicking on a link from our site.
Here's what you need to know about how to buy an air compressor, whether for yourself, or as a gift.
Rather than seeing an add for a really neat air compressor and rushing out to buy it just because it's on sale for $89 or some such, take  a few minutes to think about what you want the air compressor for. What is it you want the air compressor to do?
Obviously you want it to compressor air, but what do you want the compressed air to do for you?
When working on a woodworking project with a friend recently, I kept jabbing him about where his air compressor was. The woodworking project cried out for a small air compressor with a blow gun attachment to dust off the wood itself, and clear chips and sanding debris from the shop tools. He doesn't have an air compressor now, but will have one soon, I expect. All he'll want it for is to provide a quick and easy method of blowing clean projects and woodworking tools, or maybe inflate the odd bicycle or car tire. In this case, his compressor needs would be satisfied with the small, $89  air compressor referred to above.
And you? What do you want to your compressed air to do?
cleaning bench and tools with a blow gun
inflate a tire or football
maybe periodic use of a small – air driven nail gun
If this is all you want your air compressor to do for you, then this is how you buy your air compressor. Find an air compressor that's on sale, runs with a 120 VAC power supply (you plug it in a standard outlet), is an oil-less or oil free design (you won't ever need to add lubricating oil) and a compressor that has a small air tank to hold a reservoir of air.  An air compressor much like the one shown below for example.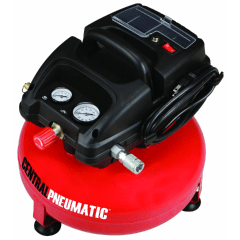 You may even find this small air compressor coming bundled with some lower-air-demand air tools like a brad nailer. So much the better.
Don't be too concerned about the air compressor brand, source, whether or not there are spare parts available now or ever. Do get one that offers a warranty though, just in case the compressor doesn't work out-of-the-box, which happens more often than you may think. The warranty means you can take it right back to the store and get a replacement.
Buy the cheapest air compressor you can afford, and at the same time, acquire from the same store a couple of the correct coupler / connector kits for that compressor, so you can hook up your small array of air tools. Don't forget a 1/4″ air hose if one isn't supplied with the compressor, to get the air from the compressor to the air tool and you will be in business.
Since your compressed air use will be minimal, if you don't try to power a high demand air tool with your small air compressor and burn it out, leave it out in the rain, drop it off the tailgate of your pickup truck, or abuse your air compressor in some other fashion, this type of air compressor should provide years of periodic compressed air supply with virtually no maintenance concerns.
In the fullness of time, when the cheapish air compressor eventually dies, toss it out, and if you still need a compressed air supply then, replace it with a similar air compressor.
I need a bigger air compressor
Why would you need a bigger air compressor? Well, bigger air compressors (more motor HP and bigger air tank) can deliver a higher flow of compressed air faster than can a small compressor. It's as simple as that.
If you need to drive an air sander, die grinder, spray paint gun, sand blasting – maybe even supply compressed air for a commercial shop, then you will need a bigger air compressor.
Is this larger compressor a gift?
If the larger compressor you are considering is for a gift, our advice is don't buy it. Get the gift recipient a gift card or gift certificate for a reputable compressor store and let the recipient buy their own air compressor. Why? Well, once your compressed air needs get beyond the basic blow-off or inflating a tire applications, more effort is required to learn how to buy the right air compressor for higher demand, more frequently used applications, and unless you are the user, you may not know what all the uses are, or may be.
Buying a higher flow more powerful air compressor means you first need to start looking at the air tools you plan on using along with the frequency you will use those tools. The more frequent the use and the higher the flow required, the larger and better quality of air compressor you will want.
What are the things you need to know to buy a bigger air compressor?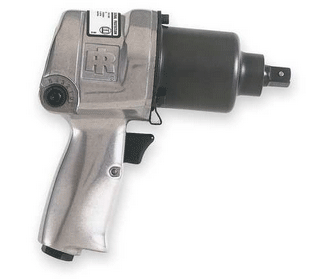 The image above shows an Ingersoll-Rand air impact wrench. The specifications for this air tool show that to drive it for a 15 second job, your air compressor will need to deliver 5.4 CFM at 90 PSI. This is the minimum flow and operating pressure required by this particular air tool. Larger wrenches will need more air capacity. Other air tools can use even more air than this wrench.
The rule of thumb about air compressors – that each HP of electrical compressor motor can provide 3-4 CFM of compressed air at 90 PSI
what will be the highest demand air tool that you plan on using – the demand being measured in air consumption in CFM and pressure needed, in PSI – that will give you an idea of what HP your new air compressor needs to be
don't forget to add the demands of all air tools that may be in use at the same time to ensure your compressor is big enough
if your air demand means that the compressor motor HP required exceeds 1.5 HP in size, consider moving to a 240 VAC compressor to ensure that you have enough power to generate the air required and that this may mean some electrical work in the shop to get a 240 volt power supply to the compressor
you want a compressor with the longest and most comprehensive warranty you can find
when the compressor goes down, how critical is it that you can fix it, or get if fixed, fast enough for you – who backs it up and fixes it when you have a problem
larger air compressors will require regular maintenance – what maintenance is required and who will ensure that it's done
Small workshop air compressor
An air compressor, like one shown below, would be adequate to supply the compressed air demands of a small workshop with a couple of air tools using air on a regular basis.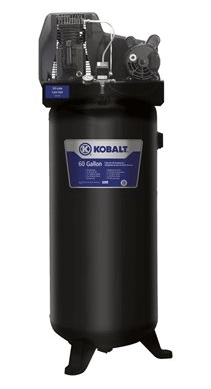 Since the air compressor shown above is available from a big box store, the warranty replacement of parts, and more importantly, who fixes it, might become more of an issue, as the big box stores do not typically have compressor maintenance as part of their service.
Larger workshop air compressor
A larger workshop or small commercial shop air compressor would need to be, in our opinion, one with at least a 5 HP electrical motor, with a 60 gallon tank.
And if for commercial use, we would recommend the purchase from a local distributor for a compressor company that supplies more than just the air compressor, but the expertise and personnel needed to provide on-site service when you need it… and you will need it eventually.