Hey! This site is reader-supported and we earn commissions if you purchase products from retailers after clicking on a link from our site.
You have it, the new compressor. You may have purchased it.  Or maybe you received it as a gift, or found a real deal in a local flea market or garage sale?
Or, you  haven't purchased the new compressor yet and are looking for tips before you make the plunge?
Regardless, information relating to acquiring the new compressor, and it's use after you get one can be found below and on the many pages on this website.  On this page we will talk about about how to select the new air compressor, and how to use it more effectively after you get it.
Everyone has an air compressor, right?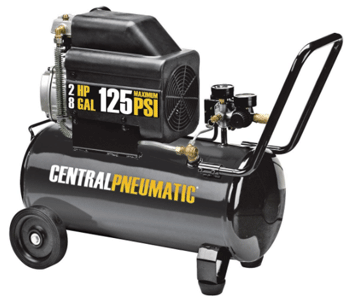 If you want to have one just because everyone else has one, that is just fine. Air compressors are versatile in their use, and if you have one, you will find uses for it.
If you need an air compressor (or a new compressor) for your shop, then you probably already know what you want to use the compressed air for.
If you don't know what the air compressor is for, then I'd like you to consider a bit more before you go out a buy an air compressor "just because". If you nail down what it is that you want the air compressor to do for you that will help you decide how big an air compressor to get. And for the proper functioning of a wide array of air tools, a bigger compressor is a better air compressors, as far as I am concerned.
For example, if the new compressor purpose is to blow up the odd football or to blow dust off the work bench then you can probably pick up a new air compressor, similar to the one in the photo above, that will do that job for under $100.
It will have a 120 volt power supply, a 2-3 gallon tank, a fractional horsepower electric motor, and for blowing up balls and clearing dust and debris from a workbench, a compressor like this will do the job just fine.
Just don't expect to use an air sander to sand your car or use a spray gun to paint your car with this little compressor. It will not work!
Compressor size and the air compressor power supply are very important criteria to selecting an air compressor you will be happy with, particularly  if you need to do repetitive, long-duration work with an air tool like sanding or spray painting. Here is more information about that.
What kind of air hose?
When acquiring the new compressor, give some thought to the air hose.
I've purchased a number of air compressors over the years. A common attribute of the low cost, DIY type air compressor, is that it comes equipped with a small diameter, PVC type air hose. This type of air hose has its problems. The good thing about them is that they are cheap – at least from the manufacturer's perspective. For the air compressor owner, having one is not cheap in terms of convenience and reliability.
Here is more information about your air compressor air hose. 
Couplers and Connectors
You need to consider the coupler and connectors too.The air compressor will come equipped (typically) with a discharge coupler at the end of the pipe leading from the air tank. This is the method of attaching an air hose or air line to the compressor.
In order to use the coupler you will need the corresponding connector that fits that coupler. All couplers and connectors are not compatible.
You will, if you don't already, need to understand how couplers and connectors work together. This page has tons of information on couplers and connectors for you.
Make sure you get enough connectors that fit the discharge coupler on the compressor, so you can connect various air tools and lines to the compressor.
Compressed air questions?
If your question about the new compressor has not yet been answered please use the comment box below to ask it. If your question is about troubleshooting, please see the menu at the left for typical issues for air compressors.
Will this page be useful for others? Please share it. Thanks.